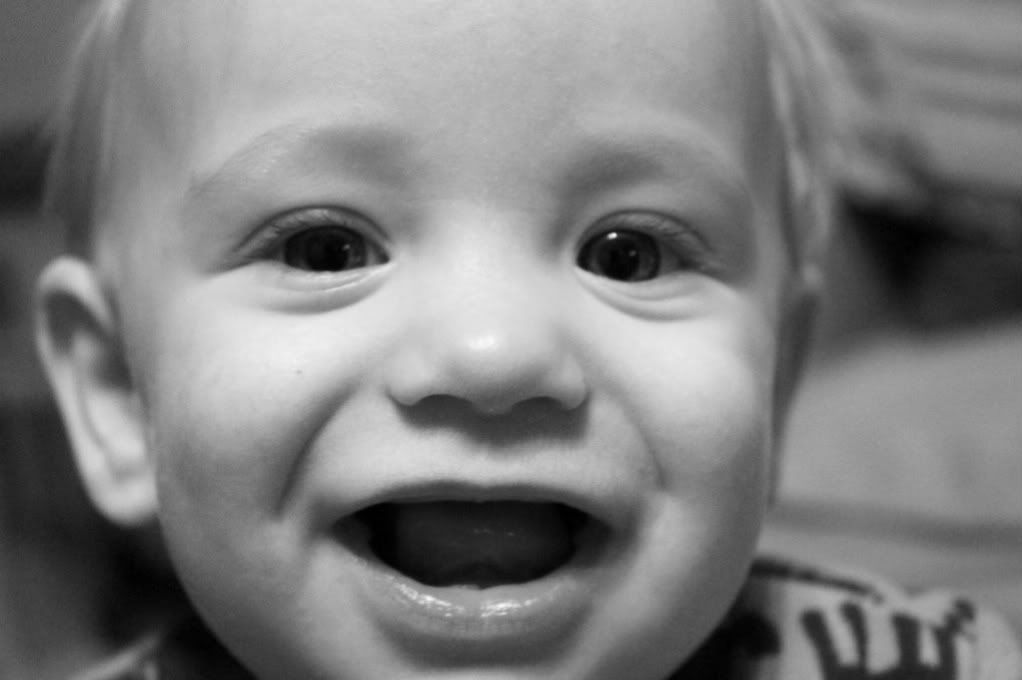 My little Friday the 13th boy celebrated his 8 month birthday this past Friday. Friday the 13ths will always make me smile.
He's not one to disappoint on his monthly b-days, so at 8 months, he is sporting some new moves. For instance, this face: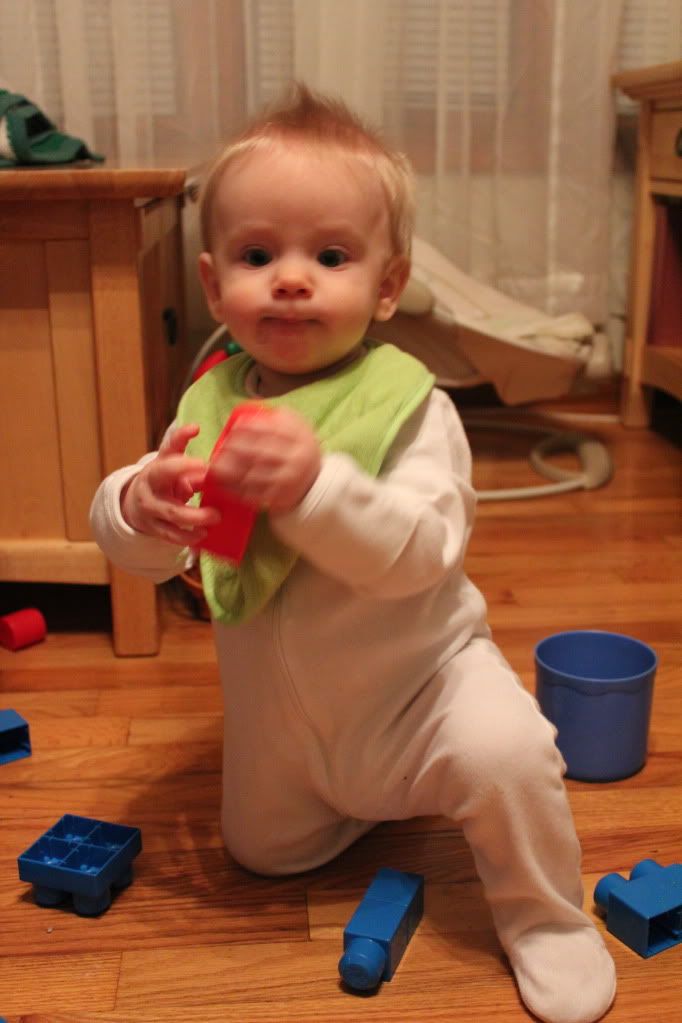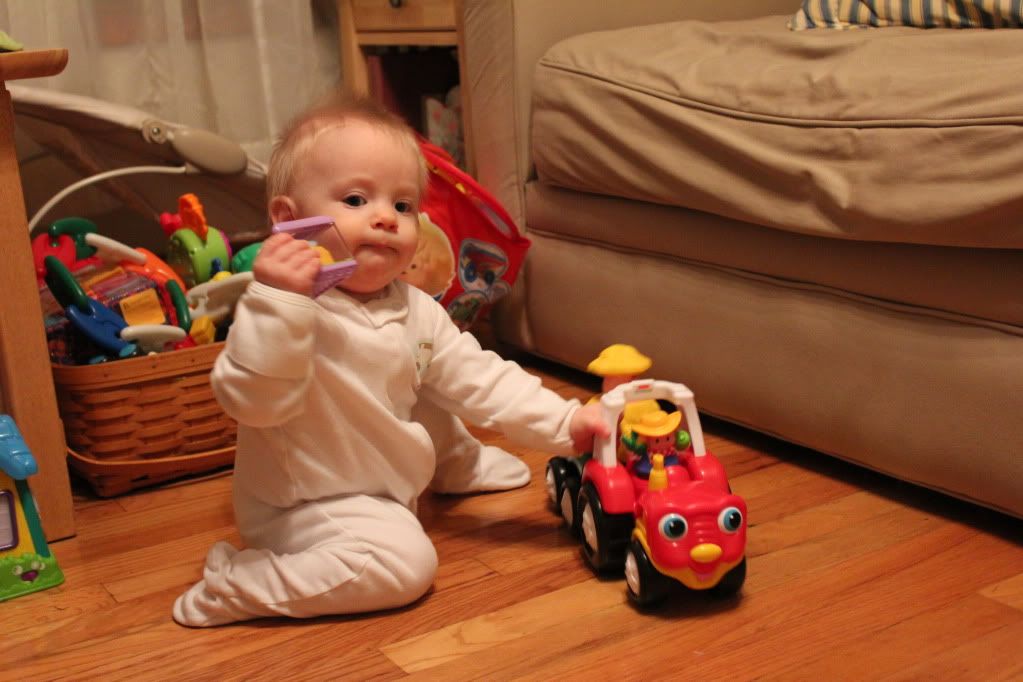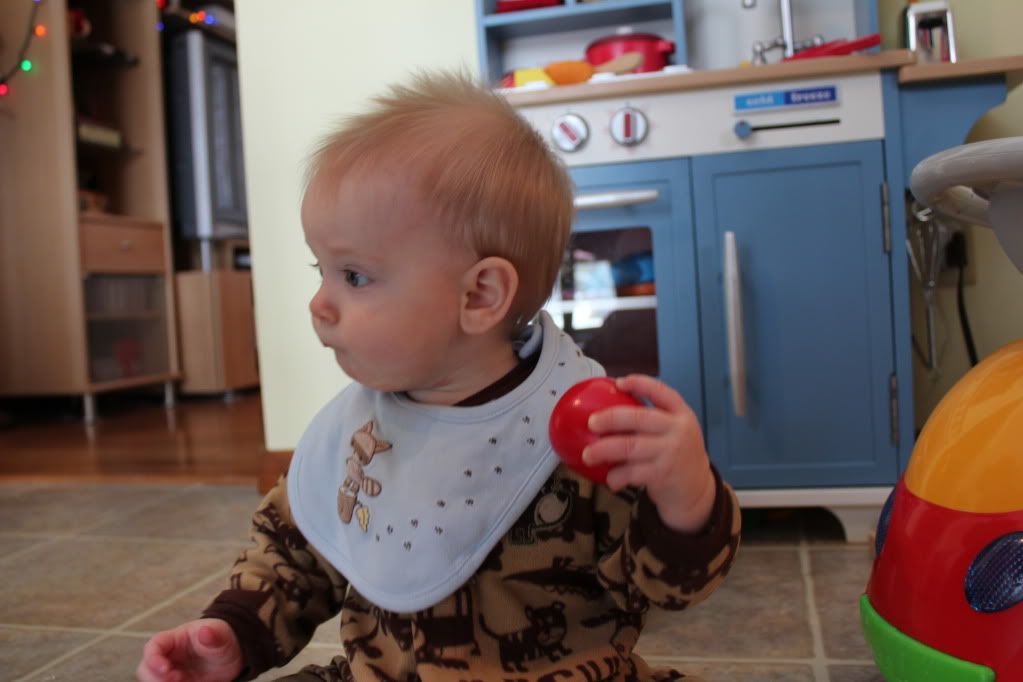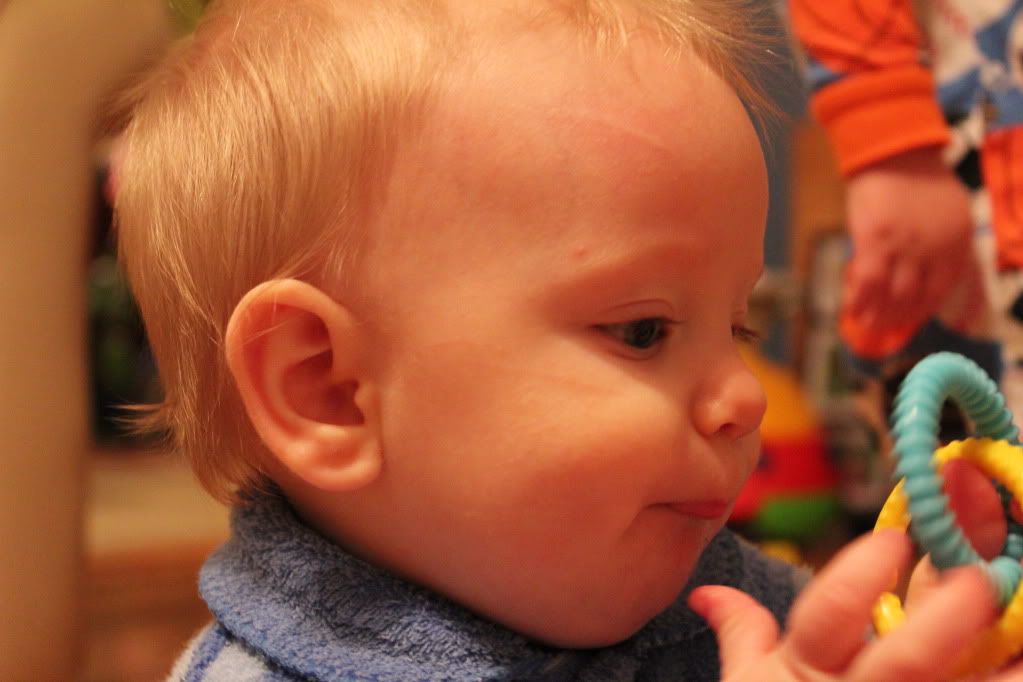 It must have something to do with teething, right? He's getting his second tooth (I can almost feel it) and all weekend, he was sucking that bottom lip in. I swear, he doesn't always just live in pajamas.
I think it was Friday night that he decided it would be cool if he just started standing up and letting go. Then he waits for us to notice and gets a big grin on his face when we start clapping. Right before plopping down on his tush. Once he lunged forward. I'm not sure if he was just falling or trying to take a step towards me. This kid is going to walk before his birthday, I just know it. Thing is, he's tiny. He has no business walking. Hop on up in mama's arms and stay little. Mmmkay?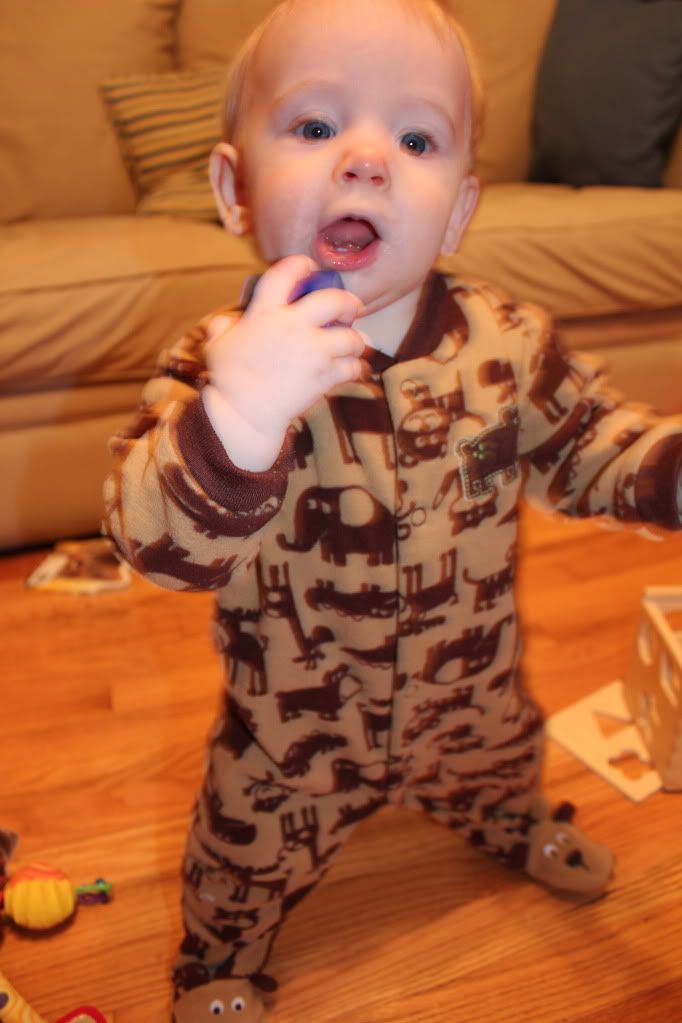 Look, ma! No hands.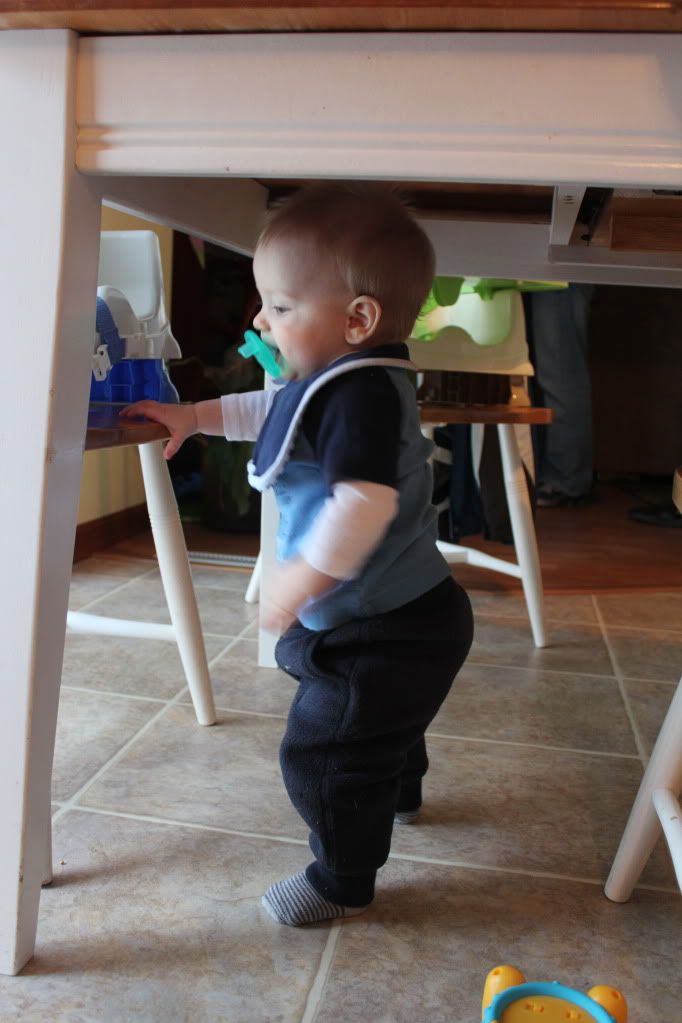 one hand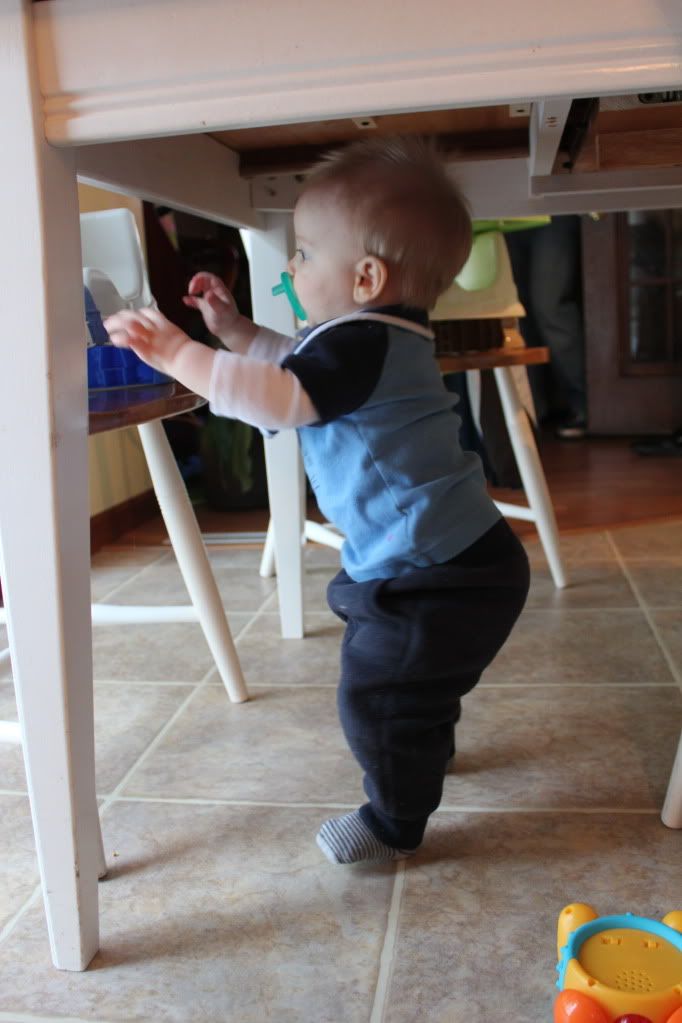 no hands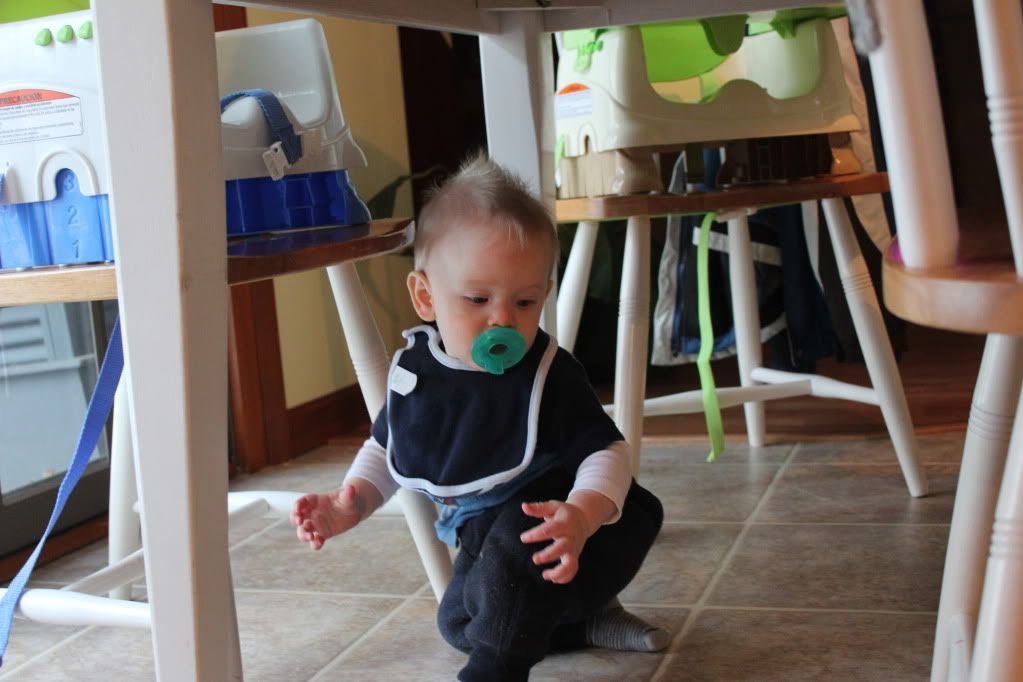 try again.



And y'all - whether it lasts or not remains to be seen. But it seems as though this guy may finally be sleeping through the night. It only took 8 (exhausting) months. More about this later!
*********
Well, what's that other dude been doing?
Keeping up on his oral hygiene, of course.
Eating the meal of all meals - yogurt, a hot dog, and a pickle. Dee-lish.
Snuggling up to Niko.
Hanging out with friends, Max & Mik.
(Don't they look like they could be Dexter's cousins?)
Reading books to brother.
And finally...
Shouting "pee pee potty!" when it's already too late. Then squirming and wiggling away when I try to take his picture on the potty. What? Don't all moms take pictures of their kids on the toilet and post them on the internet? Maybe I should rethink this...nah.
Newsworthy: We had no plans this weekend other than getting the Christmas decorations put away. Success! We did the majority of it during Theo's 3 hour nap on Saturday. Perhaps that was mean - he was pretty traumatized when he got up and everything was gone. Once he noticed the tree had been taken down, he went looking for every string of lights that had been up. It was sad, following him around as he searched for any trace of Christmas. All in all, it was a nice, relaxing weekend after being sooo busy these past few weeks.
Lastly, I have to say that the weekend would have been better had I not been made aware of some heartbreaking news. I learned that sweet little 2 year old
Tripp Roth
lost his battle with
epidermolysis bullosa
on Saturday morning. No, I didn't know him or his mother personally but their story has gripped my heart since I stumbled across their site on
Top Mommy Blogs
. Take a moment to read about Tripp. You will fall in love with him. He has so many admirers - I think tears were falling all around the world this weekend. Rest in peace, little man.
so thankful,
~C~