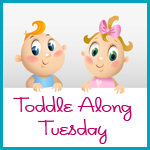 I'm participating in Mama G's Toddle Along Tuesday Blog Hop once again. Today's topic: Your child's room and/or play spaces. Hmm. Disclaimer: No rooms were cleaned in the making of this post. (Maybe I moved a couple things around in Dexter's room, but the tornado that is Theo's room was left as is).
First of all, what part of my house
isn't
a play space? This post will make it all too evident to everyone else why I have been complaining that WE HAVE GOT TO MOVE. Stat. It was never our intention to raise two babies in this house. But yeah - ya know!
Here we go.
Twinkle Twinkle Little Scout
,
Lamaze Northern Lights Soother
, and
Kimberly Grant Zoom Zoom Bedding
.
Diaper Genie
to the right. Rolling plastic storage thingy to the right of that for blankets, extra diapers, and the like.
See? I told you...he is awesome.
Moving on to Theo's room...
Pillow Pets
,
Fisher Price Projector
, a couple of Elmos, and
Migi Alphabet Bedding
.
ITSO cubes
hold quite a few toys, but not enough obviously.
Ah. I just realized I forgot to take a picture of our giant bookshelf, full of baby/kid books. First thing you see when you walk into the living room. Yes, it is time to move. And when we do move, we will have a playroom where so many of these things can be tucked away. Oh, I can't wait for that day.
If you want to know what my "dream play space" looks like, just flip through the pages of a
Pottery Barn Kids
catalog. Have you ever seen such rooms!?
Here's a taste.
Hope you've enjoyed the tour!
~C~