I don't want to press my luck here, but I have to say it. I will probably jinx myself and everything that is good between here and Mars, but I have to say it.
Dexter is sleeping through the night.
Since Dexter was born, he's slept through the night - meaning no one had to get up and go talk to him, pat him, rock him, feed him, etc. - a
few
times. As in less than 10. I haven't counted, but that's my best guess. Last weekend, when we were at
Big Splash
, something happened. He would not calm down. He would not just.go.to.sleep. Normally we rock him to sleep but it has gotten harder and harder. He was so fidgety and restless, we resorted to putting him in his pack n' play wide awake. He did cry. It was sad. But it only lasted a couple of minutes. Less than 10...and he was out. He slept until almost 6. I know that sounds lame, considering that he didn't go to sleep until about 10:30 that particular night, but that was heaven on earth to me.
We decided long ago that once we started, we wouldn't go back or it was all for nothing. Two times last week, he cried for 30 minutes (Tuesday and Wednesday). We checked on him every few minutes to reassure him that we were still there and that it was okay to go to sleep. The rest of the nights, he either barely fussed at all or was asleep after nursing by the time I laid him down. But guys. The great news? He has slept through the night (or at least put himself back to sleep without crying in the middle of the night) FOR THE LAST WEEK. Do you know how magical that is?
I will say that I'm not a huge fan of crying it out, but I felt that we were out of options that made sense. We could no longer get him to go to sleep in our arms. He has just gotten too big and strong and stubborn. If things continue to go like they have been, this will have been worth it. Know why? Because this little prince slept from 8:30 Saturday night until 7am Sunday morning. And this mama slept from 9:30pm until 7am Sunday morning.
Thank you, Dexter. You have no idea how much I needed that. Now do that trick again. And again. And some more and then do it again.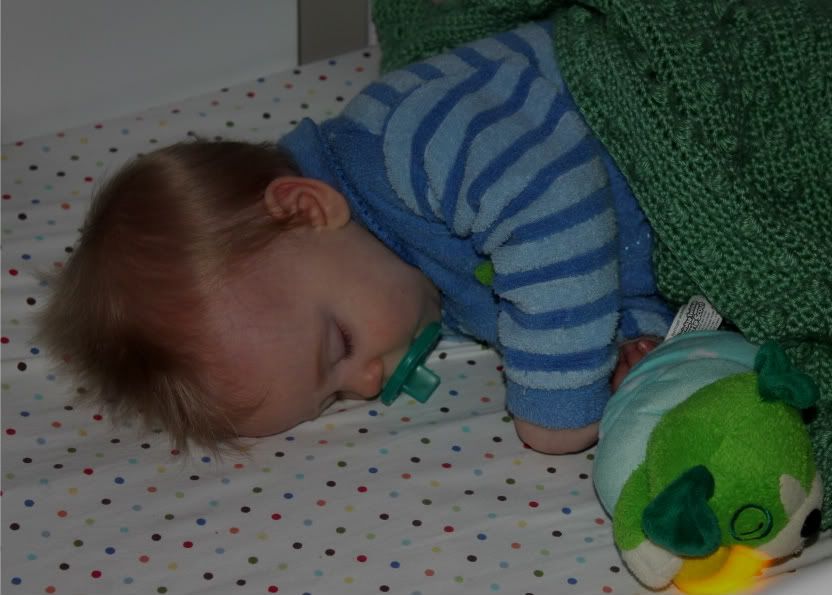 rested,
~C~