I feel like I am on photoblog overload. But hey, a lot has gone on lately and there have been a lot of pictures to show for it. Since this is my virtual baby book, this is where the pictures go. Eventually I will write a post where I actually talk about stuff, but for this week, I'm editing, uploading, and posting tons of pictures.
Mostly, I think
Groupon
is junk, because all they ever post is 50% off a spa pedicure 45 minutes from my house. Every once in awhile, they get it right. My friend told me about a deal for 50% off an indoor waterpark and resort a couple hours from home. Sounds like a fun weekend getaway, right?
Welcome to our
Big Splash Adventure
. It was only $140 for 4 waterpark passes for both days you're there, one night in the hotel, pizza dinner with breadsticks and 4 drinks, and continental buffet breakfast. I think that's a pretty great deal.
When we pulled up to the hotel, Theo said "beeeg house!" He's really learning big and little. He is also getting really consistent with colors. He still surprises me every day with the workings of his little brain.
Anyway - we got there Saturday around 12:30 and got the boys suited up.
Dexter is looking pretty sassy here, don't you think? He knows he looks cute.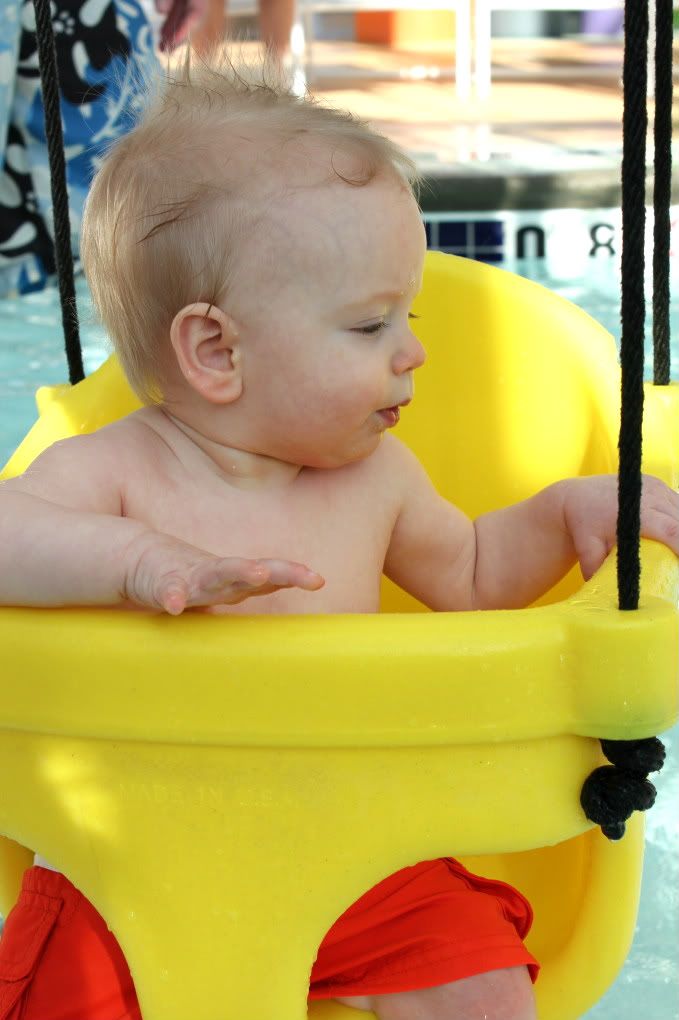 He spent most of his time in the water swing and playing with the fountains that shoot up in the kiddie pool (see below).
Theo was more interested in checkin' out the ladies. Aw, yeah.
Fountain thingies in the background. Dexter crawled around all over the place every time we put him in the pool. Silly boy.
After a couple of hours it was evident that they needed a nap so we went back to the room and got them to sleep for an hour or so. Oh, they must have slept hard because they had the bedhead to show for it. They rolled around on the giant KING sized bed (we only have a full sized bed at home) and shared a little Puff snack. Some of the best moments from the whole weekend happened right then.
I. Love. This.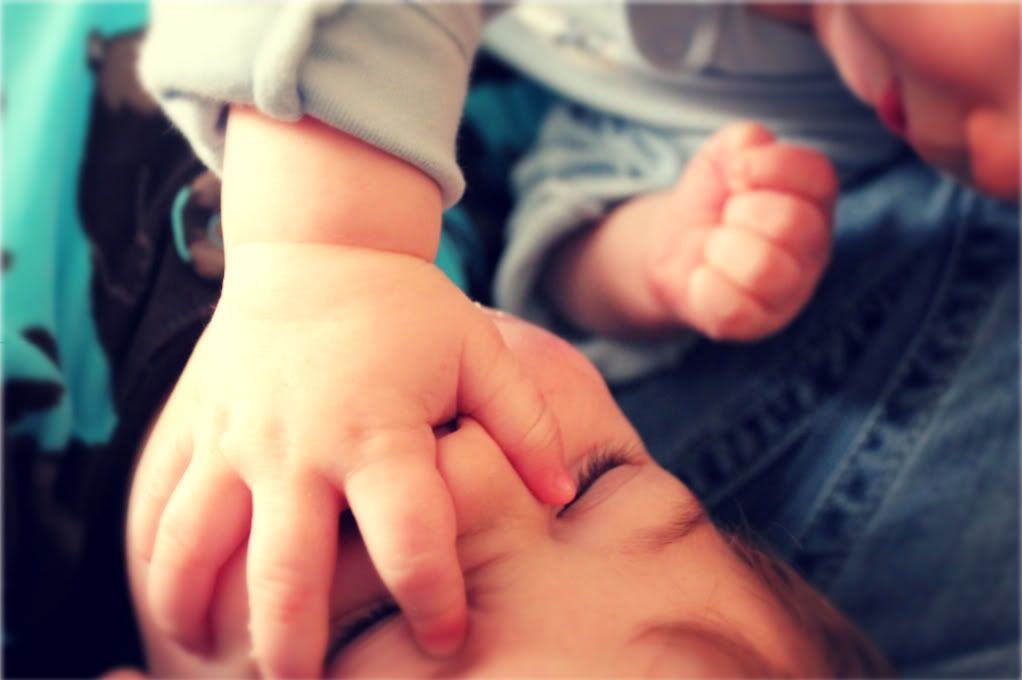 And this. Dexter with his hand over Theo's mouth. I can already picture him doing this again in a couple years as Theo is about to rat him out for doing something naughty. Can't you see it now?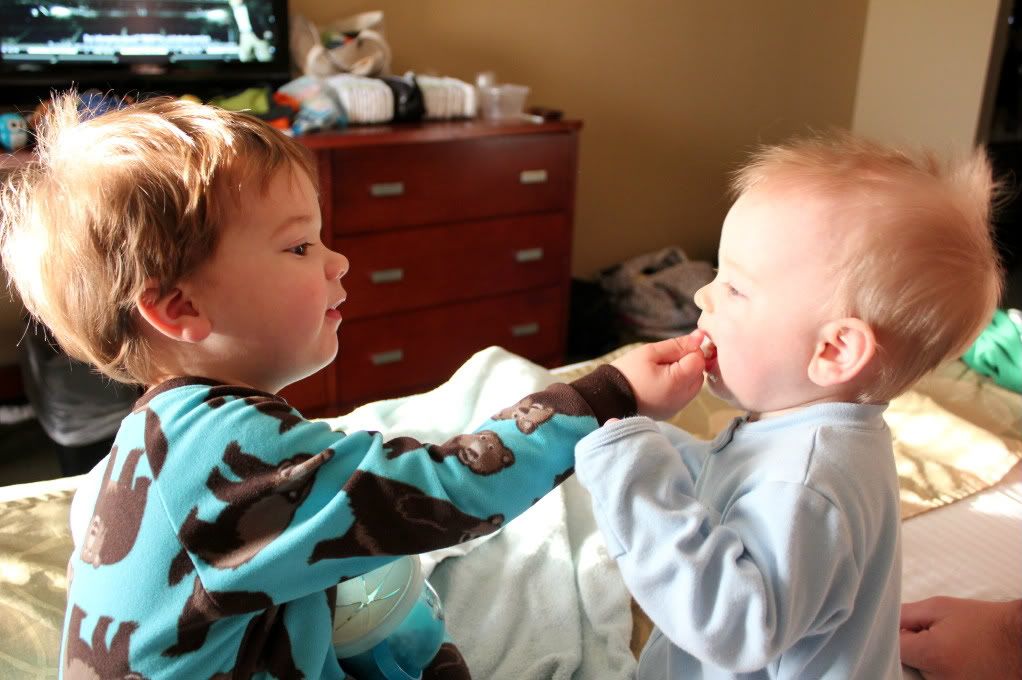 Well, here ya go, brother. Have a puff. See the bedhead?
Love.Love.Love.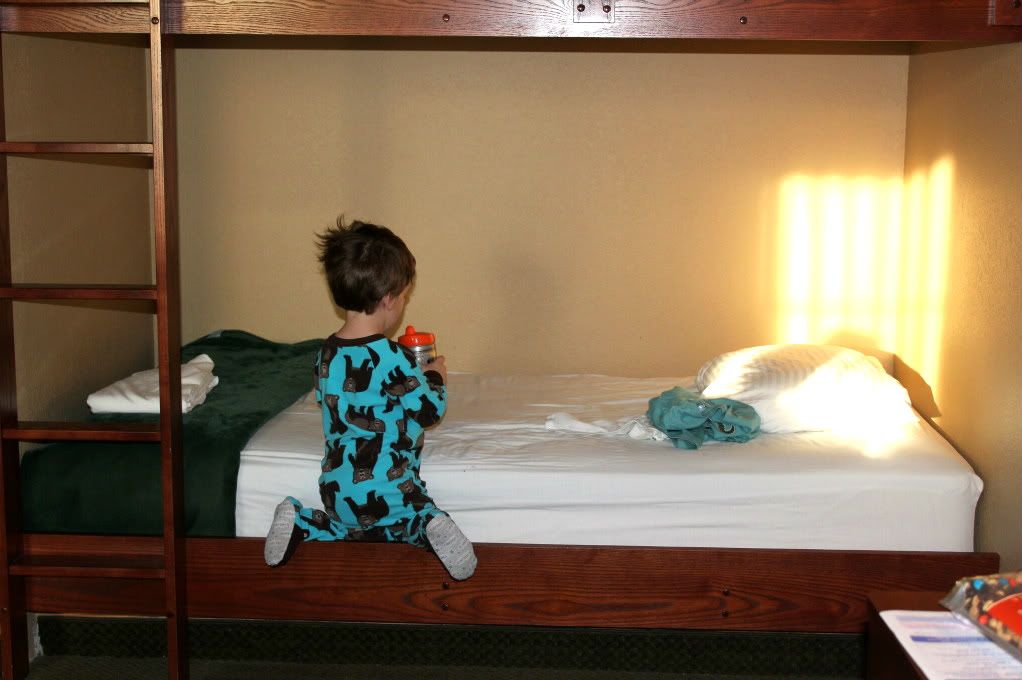 Theo loved this little bunk.

There was the pizza dinner (it was only okay) and more swimming. More rolling around on the bed and overly tired, hyper little boys that didn't want to go to sleep. Theo desperately wanted to sleep in that bunk. We pushed his pack n play up next to it to serve as a rail, but he was just too excited. Too excited about sleeping in a "grown up bed" to lay down and do just that. We put him in the pack n play and he was out instantly. Both boys were FINALLY asleep around 10:30. You know, two and half hours past their normal bedtime. Dex was up at 6ish as usual, and Theo slept until 8. I think he would have slept a lot longer if it hadn't been for Dexter making such a ruckus.
Breakfast was decent, then it was back to the pool.
We allowed ourselves about an hour and a half before we needed to go back to the room and get checked out. It only took about half that to realize that Theo didn't get enough sleep. He was so tired.
Dex still loved the water swing.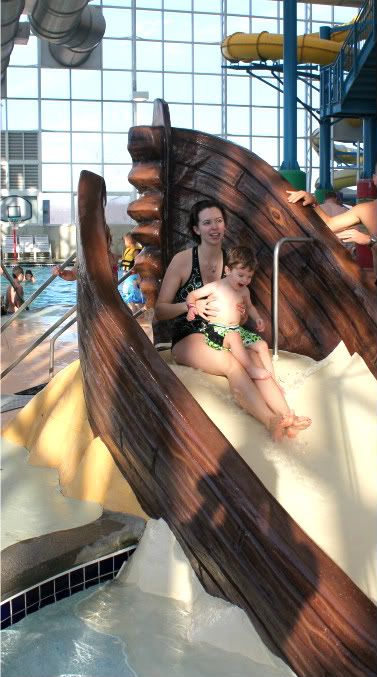 Theo loved the slide. He mostly went down by himself, this was just for funsies.

Shortly after this, Theo informed us that he was done "fwimmin" so we got ourselves checked out and hit the road. He was asleep before we got out of the "beeeg house" parking lot. Oh, but not before throwing a giant exhaustion-inspired tantrum in the room while we were packing up.
Par for the course, my friends.
All in all, I'd call it a fantastic weekend. Can't wait to go back!
~C~