Yeah, it was a month ago, so sue me. I have thought about posting pictures from his birthday every day since his birthday and eventually I started thinking, what's the point? So much time has passed. But this is my virtual baby book and I want these pictures here to look back at one day.
Theo's birthday fell on his Thursday this year and we had plans to celebrate the following Saturday. We wouldn't dream of not celebrating on his actual birthday so it was just reason to extend the fun for a couple extra days.
First picture of my 2 year old boy. Yes, with a sticker on his chin.
Theo had breakfast at Ihop with his friend.
Took them to the library for some fun with puzzles and books.
It really was so much fun!
Mommy MIGHT have even let him have sprinkles at snack time.
And it MIGHT be a new obsession of his. Whoops.
Mama made some cupcakes for her big boy.
There was a nap of epic proportions. Like the kind you have to wake him up from so he can open presents. Rough life.
Excited to see what's in this box from Grammy.
And of course it wouldn't be a birthday without a trip to Chuck E. Cheese!
Baby brother's not too sure about this plastic bib.
Digging into his little cupcake.
It was a pretty perfect birthday, for not even having a party!
Friday, he had his 2 year checkup, which went just fine. He's growing. He's healthy. He's smart. Nothing we didn't already know!
We had a laid back day on Friday and were happy that daddy took off work to hang out with us. Saturday we had a little lunch party with R's parents and sister and her family. We decorated with a Doodlebops tablecloth and balloons. It was stress-free, simple, and just the way I wanted it to be.
On the menu:
Roasted asparagus
Cheese and potato casserole
Chicken cordon bleu with wine sauce.
YUM. (And yes, these are all foods that Theo loves!)
There were lots more presents and lots of stickers.
Here comes the cake! (DQ didn't have Doodlebops. Boo!)
After everyone left and we had time to play with all his new toys, Theo wanted to blow bubbles with his new Chuggington bubble toy. Funny...he carried this little toy around for days after his party.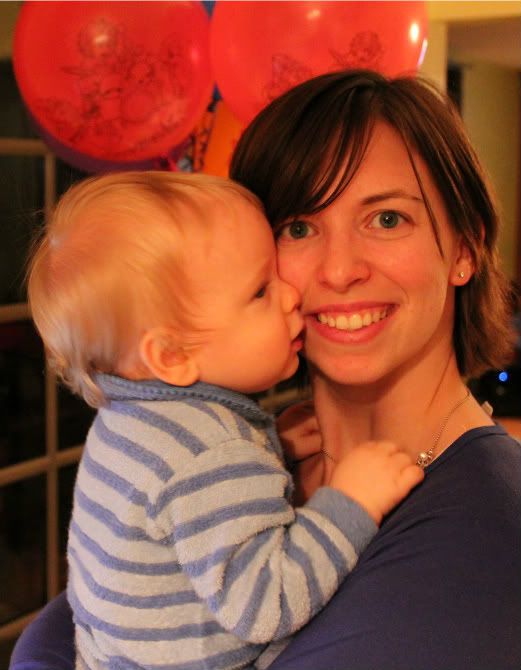 It was a special few days. But every day with my little boys is special. At the end of every day, after the boys are in their jammies and ready for bed, after I've gotten my share of hugs and kisses, I must say... I am one happy, lucky mama.
~C~